Selected Research Outcomes
1). Acoustic Ecology
The

Listen(n) Project

and the

Acoustic Ecology Lab

are the two principal vehicles for this research that aims to engage the community in listening to and actively recording the environment around them in order to raise environmental awareness, make a permanent record and via these activities, develop community stewardship of natural environments as a way of engaging the challenges of climate change. The Listen(n) Project hosted a

Listen Symposium at ASU in 2013



This video outlines the field of acoustic ecology


Mojave National Preserve, Listen(n) Project Field Lab, May 2014



and here some of the technologies we are developing to take the beauty of the national parks and other nature reserves to the elderly, hospitalized and mobility impaired who would not others have the opportunity to visit these locations



EcoRift hosted by the UN Foundation at SxSW Eco 2015. For more information on EcoRift, please see here

The Listen Project uses a unique approach to creative placemaking - the composition of musical works using only the environmental sounds generated by the project. This have lead to a

surround sound concert

of musical works commissioned by leading international acousmatic/electroacoustic music composers
2). Agency and embodiment
As the
New Interfaces for Musical expression
field has developed I have contributed a lot to discussions about principle design considerations in new electronic musical instruments, including a
major online database.
Much current musical performance uses the laptop is a primary musical instrument. This research focuses on how to interface with that instrument. My writing on somatic embodiment in instrument design and interface development is widely cited in the literature. This work has been ongoing since the 1990's with my early major article in the area
Interactivity, Where to From Here
(Organised Sound Journal, Cambridge University Press) remaining in the top ten ranked citation from the journal. This article was extended and revised for both the Oxford Handbook on Electronic Music and for an IEEE article in 2013 (Paine, G. (2013). New Musical Instrument Design Considerations. IEEE MultiMedia, vol.20, no. 4, 76-84.). The
IEEE article is presented here
as an example of this work.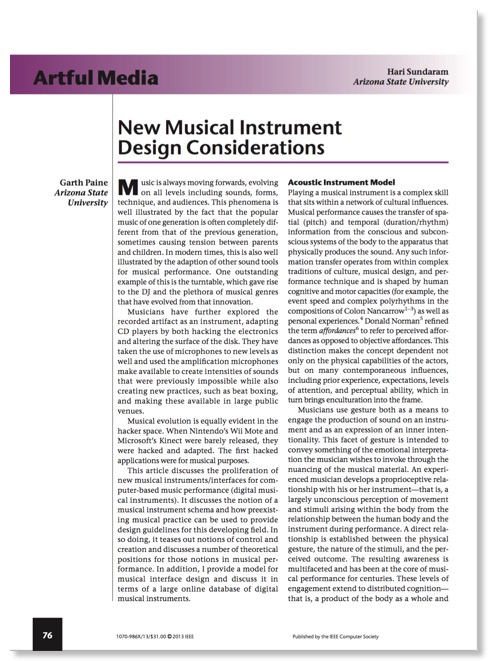 3). Electroascoutic Music Composition and Performance
- The following works are mentioned in my person statement and have all be composed during my tenure at ASU.
4). Professional and Community Outreach
In March 2015, I co-Chaired with Dr. Sabine Feisst, the
Balance-Unbalance 2015 International conference
. The conference theme was 'Water, Climate, Place: Re-Imagining Environments' which was aimed to provoke discussion and reflection on how the climate is changing and what our future might hold. It does so by directing trans-disciplinary thought and action as tools for positive change.
The intersections between nature, art, science, indigenous peoples, new technologies, aid agencies and society are formed with the goal of developing cross-disciplinary initiatives using innovative art and technology to advance ecological awareness and sustainability practices to inspire wide-ranging community engagement in the face of unprecedented environmental challenges.
Led by the arts and humanities,
Balance-Unbalance 2015 international conference
took place March 27-29, 2015 at the ASU Tempe Campus. It brought multiple disciplines together with submissions from 24 countries, an impressive multi-disciplinary
keynote lineup
of high profile presenters from local Native American tribes, business, art, music and acoustic ecology, the Red Cross, water research and community engagement with rain forest initiatives in South America.
Balance/Unbalance 2015 from ASU Herberger Institute on Vimeo.